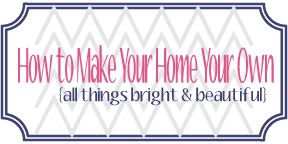 Lesli from
My Old Country House
is brand spankin' new bloggy buddy for me, we actually "met" through the Roomspiration Blog hop and I was just in awe of her absolutely *lovely* rooms for her kiddos! She is such a sweetheart and agreed to share it's fantasticness with you all today!
I am so excited and thrilled and Honored to have been asked
to
Guest Post on...All Things Bright and Beautiful Blog.
I met Aubrey recently through her blog
and right away we clicked. It is obvious to me
that this is the beginning of a
Great Friendship.
Aren't Blog friends awesome!
I think the clincher in my instant adoration of Aubrey was the
and the ADORABLE Navy and Pink Graphics appeared.
It is a widely known fact that I am a
This recent blog post of mine,
featuring my newly transformed Pink Cabinet
and my Chevron Sofa
and my Missoni treats...
this post brought in more reads and comments
than my new little blog had ever seen!
(well, that and the Missoni madness!)
I love

Pink

... with everything.
Hot Pink
Jonathan Berger in House Beautiful
....look how that small Dash of Aqua and the wood table,
keeps it real and
calms it down just enough
Orange
Trina Turk
and then... there is...
Pink and Navy

.
When I discovered the combination
... it was like when Peanut Butter and Chocolate first met -
a Match made in heaven!!!
It was this room by one of my favorite Designers
Mary McDonald,
which inspired my Daughter's Room Makeover.
Tobi Fairley Gets me!!!
Lillies and Luxe- a little goes along way....
Sometimes people are afraid of pink.
The femininity, the girly factor, scares some folks off.
But Pink, done done right
is nothing but CLASSY!
and can totally MAKE a room!!!
There you have it.
I could go on forever. and I get weak in the knees
when I spy another New Room done right with dash of pink
or a splash of pink...
or Pink out the wazoo!
Thank you Aubrey for inviting me to Guest Host
your Lovely Blog.
And Please come visit
My Old Country House
anytime you are in the area!
Thanks Lesli!!! I'm pretty sure I'm going to be obsessed with that chevron sofa for the rest of my natural born life...and that cabinet with the pink??? Yeah, I'm pretty sure I'm a pink-a-holic, too!!!
Be sure to hop over to Lesli's and welcome her to the blogging community (and ogle her fabulous digs)! You can scroll back through the other rooms that she has been showcasing for the Roomspiration Blog hop...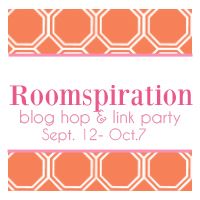 Speaking of Roomspiration...Don't forget that one of my absolute favorite bloggers (and probably yours as well!) Elizabeth from The Mustard Ceiling
is hosting today's linky party featuring mud & laundry rooms!!!
So don't be shy and hurry over to link up!!!

Up tomorrow:
Shannon from 8foot6!!!!