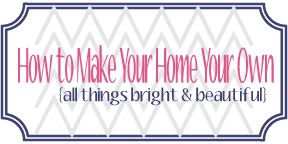 The "How to Make Your Home Your Own" series is back and the par-tay is coming to you TUESDAY!!!
And just look at what you will have to feast your eyes on this time:
Tuesday:
Wednesday:
Thursday:
Friday:
And the best part:
Monday:
Starts a fabulous GIVEAWAY from KOKOON!!!
It doesn't get any better than this coming week (c:
And meanwhile...I've been doing and *will be* doing a lot of this:
...because we're busy moving. Yuck. I really don't like moving.
So if I haven't been visiting with quite the frequency that I usually do, blame those moving gremlins that are making my life miserable. (c:
SEE YOU MONDAY!!!