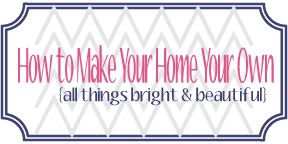 I am completely fascinated with Katie from
On the Banks of Squaw Creek
...she is a real life farmer's wife, people...and lives in the cutest and most stylish farmhouse that she and the hubbs have made their own through their own blood, sweat, and tears! Well, I'm totally guessing on that, but judging by all the MAJOR changes, I would say it's true! I think I secretly wish that I was a farmer's wife. Maybe it's all the country music I listen to. (c: Anywho, Katie is amazing and we are in for a treat, country style (c:
Hey everyone! I'm Katie, from On the Banks of Squaw Creek. I'm so excited to be on Aubrey's blog today. She is such a genuine sweetheart.
My husband and I have lived in our 100 year old house for about 3 1/2 years now. We have gutted nearly every room in the house and tried to make it beautiful and functional with a reasonable budget. From completely
remodeling the kitchen
to adding two sweet boys to our family, we are truly making this home our own!
Today, I want to focus on one small corner in our living room.
I decided to switch up a few of the accessories in this cabinet and thought it was the perfect opportunity to give you a little glimpse of how we have made our home our own.
1. We use old stuff. We love things with a story. A lot of our furniture is antique or vintage like this cabinet, and the pottery in it is old, too.
2. We use accessories that represent our interests. The antlers represent my husband's time researching tuberculosis in deer at the USDA labs, before we began raising turkeys.
Most of the books in the cabinet are by Louisa May Alcott, the author of Little Women, which is one of my favorite books.
The "A" represents our oldest son, Adam, and there is an "I" on the bottom shelf for the baby, Isaac.
My flute hasn't been played for a few years, but it was an important part of my life growing up, and is on the bottom shelf.
3. We use family heirlooms. The book on this shelf came from my great grandfather's farm and is titled "The Farmer's New Guide" (so incredibly appropriate considering the fact that we are farmers!) and next to the book is a set of binoculars that belonged to hubby's grandpa.
Trying to apply these three rules has helped us create a comfortable home that reminds us of the things we love.
Our "big" project right now is a complete exterior remodel. We are replacing all the windows and siding, but true to our fascination with "old stuff," we will be trying to replicate all the original details. I'd love to have you follow along!
How cool is all the detailing of that bookshelf??? I just love it when you can do stylish and interesting details with things that really mean something to you...like 10 bajillion times better than buying it all from Pottery Barn in my book! (c;
And up tomorrow:
Shelley from Crazy Wonderful!!!
You've already entered the KOKOON $100 GIVEAWAY, right? Don't miss out!!!