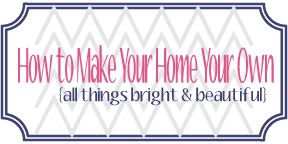 There are so many unique and fabulous things in Carrissa's design file...no wonder her blog is named
The Fabulous Design File
! Just wait until you see all the fantastic touches she has put on her lovely home! I just love how she is able to think outside the box...like making gorgeous Missoni curtains out of a duvet! (c:
See?
Fabulous.
I'm so excited that Aubrey invited me over today! All Things Bright and Beautiful is one of my favourite blogs and 'how to make your home your own' is one of my favourite topics. Here are three of the things I've done to make my home my own:
#1: Make stuff.
DIY isn't everyone's idea of a good time… but I love it! It's such a fun way to have original pieces in your home. I painted this chevron rug about a year and a half ago, and it's still my fave:
More recently, I sewed white slipcovers for my sofas and turned my Missoni for Target duvet into drapes for my living room:
#2: Turn a family photo into art.
I love the photo of my kids above the fireplace. I had it printed at a local print shop for only $60!
#3: Include some old things:
This old piano bench got a cute update with some leopard fabric.
… and I love how the old lamp and dresser look against the shiny geometric wallpaper in my dining room:
I could go on and on about how to make your home your own. I think it is really the whole point of decorating. It's so rewarding to have a unique home that really reflects who you are.
Thanks so much for inviting me over to your blog today Aubrey!
I have major print envy going on here...between that darling leopard print bench, missoni drapes, and that *FABULOUS* wallpaper...I'm all about it and more!!! Thanks so much Carrisa for letting us peep in today...but the fun kind of peep, not the creepy kind (c:
Up tomorrow: The surprise (c:
And if you haven't done it already, enter the
Tilly Maison Giveaway
for this envy-worthy little tray!!