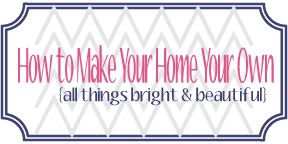 So I know y'all were *DYING* to know what the surprise was, right???
RIGHT?!?!
Well, whether you were waiting on pins and needles or not, you are in for a treat! Naomi from
Design Manifest
is truly one of the most talented and creative gals around when it comes to making a space spectacular...and her own personal loft is no exception! She just had it feature on
Design Sponge
(how RAD is that?!?), she is our very own celeb! So does that make me like Ryan Seacrest or something??? I guess I don't really want to be Ryan...unless I get his paycheck (c:
I am a huge fan of Naomi and her crazy talent and witty sense of humor...she is just an all around great gal! She was even sweet enough to give us some of her best tips on making your own home a place that screams *you*!
Tips to create a well-edited Maximalist Space.
(Aubrey: Yeah, screw minimalism, bring it on!!!)
1. Pick a few themes and stick to them. My place may seem like a bunch a randomness that magically works together, but I actually followed a formula. I chose two main colors (pink and blue) and layered on the following elements: rustic/woody, bamboo, black, gold, a little bit on animal print.
2. When working with bold pattern or color choose one or two statement pieces per wall/area and keep the rest neutral or one of your key elements. For instance- my focal patterns in my living room were my wallpaper and my pillows. Everything else is neutral, black, gold or woody!
3. When planning a vignette, remember that things look best in threes.
4. Pay attention to scale and balance. I'm always worried about things being "visually heavy." I added the shelf of pretties above my television to balance out all that black below. Also, make sure you have a mixture of high (tall) and low elements.
5. Don't be afraid to mix patterns! Just make sure the scale of each is different. Pick up some swatches and live with them for awhile. I like my patterns to coordinate but not necessarily match. It feels more effortless, but believe me, it requires A LOT of effort.
I'm busy running around my house like a mad woman gathering as much pattern as I possibly can...but I'm pretty sure no matter how hard I try, the fabulousness of Naomi's loft just isn't there!
That girl has got mad GAME.
And since I know you are *DYING* to see more pics of these fab spaces...you should really head on over and say hi at
Design Manifest
and join in worshipping her gorgeous pad!
It turned out absolutely perfect, Naomi, all your hard work and projects have paid off in a *BIG* way!
And for those of you that are looking for something fabulous for Christmas, look no further and
WIN IT HERE!